Music adds value to our lives, and learning to play an instrument is a worthwhile endeavor. But how to choose? This post will jumpstart your journey by introducing you to the different families of instruments, and give you some advice for what to consider before making a decision for yourself or your child.
Still aren't sure? Don't worry! If you don't love the first instrument you try, you don't have to give up on music altogether. You are allowed to change your mind. Try renting an instrument for a few months, and maybe get some lessons before you commit to a particular instrument. Happy music making!
The instrument families
Narrow your field of interest by figuring out which instrument family appeals to you the most. If you want to learn a particular style of music, this should also guide your decision making.
The woodwind family includes instruments like the flute, clarinet, saxophone, oboe, and bassoon. Some other wind instruments are the piccolo, English Horn, and contrabassoon. 
The brass family includes the trumpet, French horn, trombone, euphonium, and tuba. You'll find brass instruments in an orchestra or band, as well as in Jazz or other popular music ensembles.
A quick note: parents of young children should consider the limitations of their child's size and strength. Wind and brass instruments both require the player to have good breath support, developed facial muscles for tone production, and the strength to hold up the instrument for any length of time. This doesn't leave you without options! See the next section for some helpful hints.
The string family includes the orchestral strings—violin, viola, cello, and double bass—as well as the guitar and ukulele, which come in all shapes and sizes! A basic rule of thumb is the larger an instrument is, the lower (deeper) the sound it will produce. For example, a viola is played on the shoulder with a bow, like the violin, but is slightly larger, and has a deeper, more mellow tone. 
The percussion family includes the piano (surprise!), orchestral instruments like the timpani and marimba, as well as the huge variety of drums heard in popular music around the world. Anything that you can hit, pound, strike, or ding! Percussion is a great area to start in if you like to feel the music with your whole body, or if you want to jam with your friends.
Helpful hints for parents of young children
I don't recommend handing your four-year-old a tenor saxophone or double bass for their first music experience. However, each instrument family has its options for beginner instruments which will lay the foundation until your child is physically ready to play a heavier and more complex instrument.
If your kiddo expresses interest in playing a wind or brass instrument, a fantastic way to start is with a Nuvo instrument (pictured below: the Nuvo DooD and TooT). These colorful pre-band instruments are specially designed to be lightweight and easy to play, and will allow your child develop the preliminary skills necessary to later join their school band. For your parental peace of mind, Nuvo instruments are crafted to be durable and easy to sanitize! Shop our Nuvo collection here.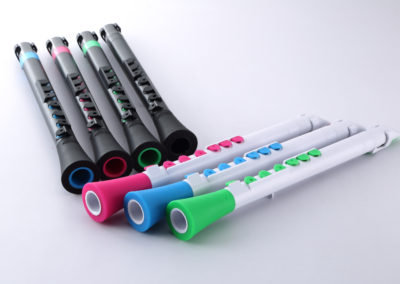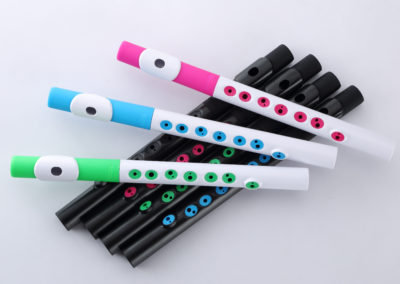 When it comes to string instruments, the good news is young children can easily start with a smaller, fractional sized instrument, then graduate to a full size instrument as they grow. In addition, the skills and techniques learned on a smaller instrument—the violin, for example—will easily transfer should your child later desire to switch to a larger instrument like the viola or cello. And a young person who begins with a ukulele will be able to pick up a guitar later in life with no problem.
Easy instruments for beginners
If you have no prior experience with music and are afraid of getting in over your head, the piano, guitar (or ukulele), or drum set might be a good choice for you. These instruments are relatively simple to play when just starting out, and won't require much preliminary work before you're ready to play your first note. Of course, mastery of any instrument requires time and dedicated study, but with the piano, guitar, or drum set you'll be able to minimize some of the natural frustration beginners can feel. In addition, with any one of these instruments, you'll gain valuable skills and knowledge of music that can be applied even if you later switch to a different instrument.
There's also an instrument I haven't mentioned yet, though you always have it with you: your voice! You already have the capacity to make music and have fun doing it right now. 
Investing in yourself: time and money
Before you begin, carefully consider what you are willing to invest in this musical journey. Be honest! Learning to play an instrument requires time and money, and some instruments require more than others. For example, a quality ukulele starter kit will cost less than $100, and a few minutes each day with YouTube as your guide will get you somewhere. In contrast, a student alto saxophone will cost close to $1500 (a monthly lease is a more manageable option!), and will be difficult to learn without a private teacher. Don't make the financial investment if you aren't prepared to dedicate the time the instrument requires. Ultimately, I encourage you to follow the path that will give you the most joy and satisfaction.
Talk to an expert
Have questions? We have answers! All our staff members are trained musicians and music educators, and we'd be thrilled to talk with you. Hit the contact us button below to get started.

Naomi Woods (Director of Music Education and Community Outreach, Violin Instructor) began studying the violin at the age of 9 and holds a Master of Music degree in violin performance from Baylor University. She lives in Greensboro, NC, with her husband Tyler and can usually be found drinking coffee or thinking about drinking coffee.